Maracaba BJJ
Instructors
Maracaba BJJ is an elite Jiu-Jitsu program here in Arizona. Coach Andre is well respected within the Jiu-Jitsu community. His program has been and continues to be highly sought after by many. With the opening of his 1st school in July 2017, there has been much excitement.
Coach Andre Maracaba provides top level coaching to all of his students. Coach Andre is well respected in the Jiu-Jitsu community. Andre has a passion that is unmatched by many, the love he has for the sport is undeniable, and recognized by his colleagues and peers from all parts of the world. His loyalty, dedication, and love for his students are returned by all. Andre not only brings his amazing talent to the sport, but a passion and love for teaching. Giving of his knowledge learned, in a patient, yet fun innovative way. It's no wonder that the kid's team and the adult's team thrives and tops the AZ State competitions continually.
Maracaba BJJ
Instructors
Here at Maracaba BJJ, our staff is the secret to our student success. Each instructor has a rich background in the Jiu-Jitsu industry and is eager to train the next generation of martial artists. Meet the team below!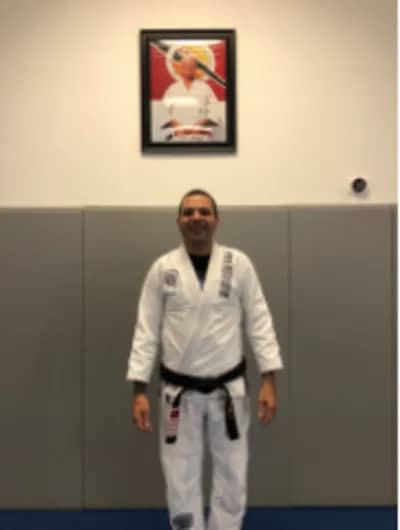 Owner and Head Instructor
Andre Maracaba
Andre Maracaba moved to the US in January 2004 from his hometown Fortaleza, Brazil as a brown belt. He received his black belt in July of that same year from his Coach Regis Lebre. Coach Andre's martial arts experience started at the young age of 3 in the art of Judo. During his training, and while ranking up to brown belt in Judo; Coach Andre was fascinated with Brazilian Jiu-Jitsu. Knowing that at the time you needed to be 12 years old in order to start, he counted down the days and started exactly on his 12 birthday. From there forward Coach Andre was hooked on Jiu-Jitsu, so much that he knew he wanted to do it every day for the rest of his life. He realized that in order to do so, coaching would be the way to go for him. At first, it started out with the idea in mind "doing jiu-Jitsu every day," but then he soon realized the amazing life-changing benefits that came with it. A whole new understanding of what the art form could bring to individuals was a new sophisticated way of thought for him. Assisting his coach down in Brazil at age 16 started to change into a beautiful transition from student to professor over the course of time.
Coach Andre saw the benefits that came with practicing, competing in high-level tournaments, and instructing. These entailed a whole lifestyle change for himself and his students including strength in body and mind, self-discipline, self-awareness, self-esteem, health, fitness, teamwork, team building, family and so much more. In addition to his Jiu-jitsu, he studied at University in Brazil in Physical Education, this too adding in his knowledge of the human body. Coach Andre Maracaba has a passion that is unmatched by many, the love he has for the sport is undeniable, and recognized by his colleagues and peers from all parts of the world. His loyalty, dedication, and love for his students are returned by all.
Read More
From day one I had a great feeling about Maracaba BJJ. When I had my trial day everyone treated me with respect and introduced themselves. They made me feel right at home. Coach Andre, the owner, and head instructor, is an outstanding instructor and his attention to detail is amazing. I signed up on day 2. I didn't need to try any other place. I knew this was the place for me. If you are looking for a friendly, competitive, and safe environment to train BJJ with top-level martial artists then look no further than Maracaba BJJ.
The best place ever! I am a student and the kid's coaches are amazing and fun.
Andre is the best coach I've ever had in a long line of coaches. He pays attention to each and every student with such detail. After I joined I had 2 friends and my wife join and stay because they loved it as well. I'd recommend it to a child who's 6 or a grandparent who's 60+. Great people and a great place. Very thankful. Five stars
Love this place. Andre is a wonderful person & an excellent coach.
Maracaba BJJ is so much more than the #1 best jujitsu gym in Arizona, it is an extended family. Our son has been training under Andre Maracaba for nearly ten years. Andre has personally helped developed our son as an athlete and more importantly as a respectful young adult. If you are considering jujitsu, come visit, talk to the parents and kids, watch or attend a class to see for yourself why Maracaba BJJ consistently takes 1st place at tournaments in Arizona, year, after year, after year!
As a practitioner of the Martial Arts for many years, I've learned through experience that Brazilian Jiu-jitsu is the most effective style for self-defense. Having trained at several Jiu-jitsu schools in the past, I have never been happier than training with Maracaba BJJ. Andre is a great teacher as is his assistant instructor Jake Watson. They are both incredible Martial Artists with great talent. If you're looking for a BJJ school for yourself or your child, I highly recommend Maracaba BJJ!
Excellent school! On vacation with my family and decided to do a drop-in class. Very welcoming friendly environment. Would highly recommend it to anyone looking for a school in or around Mesa Arizona.